Get Your Leafy Greens On!
Easy Ways to Eat More Leafy Greens!
If you are a veggie lover, read on. If vegetables are NOT your favorite, well then you should read on too!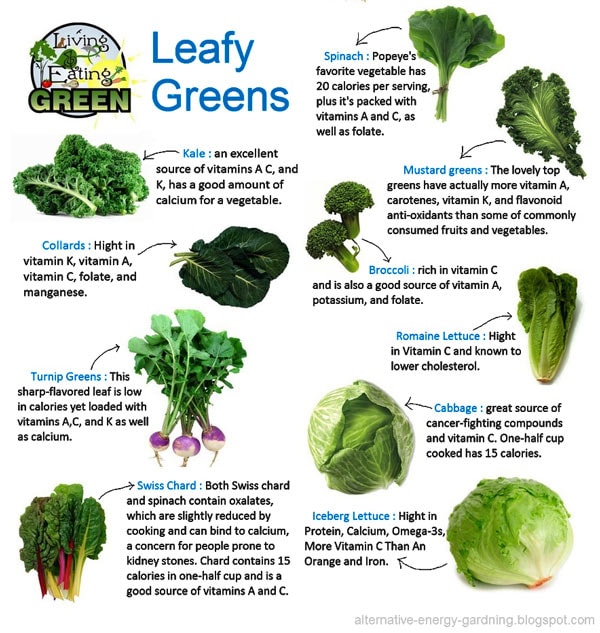 Whether you love or hate them, greens are a must when it comes to our health. Leafy greens have many benefits to boast, and there are countless numbers of ways they can be eaten. If you struggle to get your greens in, the ideas below might be a game changer for you.  Including more leafy greens in your diet, may even make your brain younger!
Leafy Greens 101
So what constitutes a leafy green anyway? Examples of these green bunches of goodness include:
Salad Greens – leaf lettuce, Romaine, spinach, mescaline, arugula, watercress, iceberg
Cooking Greens – Swiss chard, kale, collards, mustard greens, turnip greens
Benefits of Leafy Green Veggies
Greens have many health benefits. The darker the green, the richer the nutrient value. Benefits include hearty amount of vitamins A, C, E, and K, as well as high doses of antioxidants – touting them as one of the best cancer-preventing foods. According to the USDA, vitamin K in dark leafy greens helps protect bones from osteoporosis and prevent inflammatory diseases in the body. Additionally, adding greens to your diet increases fiber intake, which helps to keep the GI tract healthy. Including more leafy greens in your diet, will benefit you in many ways, but did you know they may even help prevent dementia and cancer!  Salad anyone?
Ways to Eat Leafy Greens
Spring is finally here, and it's probably safe to say that all of us will be thinking about sunshine and the great outdoors. For some that may mean outdoor farmers' markets and at-home gardening. What better to plant or buy fresh at market than fresh, crisp greens? Keep reading to find simple ways to add greens to each meal of the day.
Breakfast Ideas
Fold greens into your eggs
Blend greens into your favorite smoothie
Lunch Ideas
Dice greens up and toss into your tacos or burrito
Stir greens into the broth of your favorite soup
Use greens as a wrap or 'bread'
Dinner Ideas
Sauté greens into your pasta sauce
Toss greens into pasta as it finishes cooking
The benefits of leafy greens are numerous, and the ways to incorporate them into your day are endless. So get out there and get your greens on!
---
Recipes to boost greens!
Apple Kale Smoothie
Yields: 1 smoothie
Ingredients:
¾ cup kale, chopped with thick stems removed
1 small celery stalk, chopped
½ banana
1 small green apple, cored
¾ cup milk of choice
½ cup ice
Directions:
Place all ingredients in a blender. Blend until smooth.
Napa Wraps
Yields: 6 servings
Ingredients:
¼ cup brown sugar
12 Napa cabbage leaves
3 Tbsp. cilantro, minced
½ cup low-sodium soy sauce
1 cup red bell pepper, sliced
3 Tbsp. basil, chopped
2 garlic cloves, minced
1 Tbsp. ginger, minced
1 ½ Tbsp. lime juice
1 garlic clove, minced
3 oz. dry cellophane noodles, prepared
1 ½ lb. cleaned and cooked shrimp
Directions:
In a small dish, mix the 3 sauce ingredients and set aside.
Lay Napa cabbage leaves in a large shallow dish. Add enough boiling water to cover leaves, and allow to soften/steam. Remove and pat dry with clean towel.
In a small skillet, on medium-high heat, sauté peppers, ginger, garlic, cilantro, basil and lime juice. Cook until peppers are soft. Remove from heat.
To assemble wraps, place cabbage leaves on flat surface, top with 1/6 of vegetable mixture, 1/6 of noodles, and 3-4 shrimp. Fold leaves into the center and dip into sauce. Enjoy!
For more information on our Precision Nutrition Program click here.